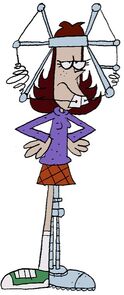 Shannon Westerburg (voiced by Grey DeLisle) is a girl whom Robot loves because she has more mechanical attachments than any human he has ever seen, specifically a large orthodontic appliance and a prosthetic leg. She is unaware that Robot has a crush on her and typically finds him more of an annoyance than anything else. Shannon talks with a lisp. Robot Jones's favorite subject is Math while Math is Shannon's least favorite subject. She has required Robot Jones tutor her. Sometimes her grades and the relationship between them improves, while other times not so much. She does not reject Robot Jones for being a Robot, as she had been in love with Finkman. In the series promotional, she is described as an antagonist with the mission to break Robot Jones's heart.
Ad blocker interference detected!
Wikia is a free-to-use site that makes money from advertising. We have a modified experience for viewers using ad blockers

Wikia is not accessible if you've made further modifications. Remove the custom ad blocker rule(s) and the page will load as expected.