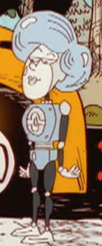 Finkman is a shiny black, grey, and blue android robot that is designed with a more human physiology. This includes hair and a more human-like voice. The only flaw with the voice is a repetitive, but very bold, laugh. This voice contains a specific accent in which Finkman was delivered from overseas. He proudly admits he is from some stealth nation and was sent to win over the hearts of everybody, especially the women (including Shannon Westerburg), and to also steal top secret government information. The timing of his departure to home is very convenient because Robot Jones was about to fight Finkman. Even though Finkman did not actually fight Robot, he was able to make Robot angry enough that Robot's brain exploded. Robot Jones continues to hold a grudge against Finkman.
Ad blocker interference detected!
Wikia is a free-to-use site that makes money from advertising. We have a modified experience for viewers using ad blockers

Wikia is not accessible if you've made further modifications. Remove the custom ad blocker rule(s) and the page will load as expected.